Mater Hospital
Admission to Mater Hospital
For joint replacement, you will usually be admitted to the Mater Hospital in the Sydney suburb of Crows Nest, on the morning of your surgery. Prior to surgery, you will be contacted by your anaesthetist and various checks will be done by the doctors and nurses before you go into the operating room. Your leg will be marked in preparation for surgery and you'll be asked questions to ensure you understand what procedure you are having.
Hospital stay
At the Mater Hospital, the ward doctors, nurses and physiotherapists will take good care of you. They are briefed on the specific protocols to be followed for patients of Professor Bill Walter. The hospital nurses and administrative staff will help you make arrangements for your discharge. Hospital staff will also talk to you about your rehabilitation options after your surgery, once they have assessed your progress. Arrangements for rehabilitation are made by the nursing staff.
---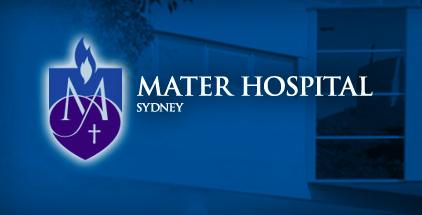 Mater Hospital: The only Australian hospital to have ISOC membership, which represents Centres for Orthopaedic Excellence around the world.